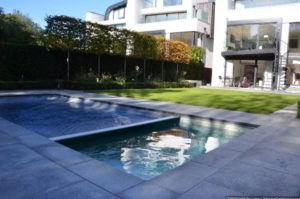 Automatic covers are a great investment to complete your pool project. Imagine uncovering a perfectly clean pool with the turn of a key! They can be installed on most existing pools too. When built into your new pool during construction, they are virtually invisible. It uses a recessed box to house the roller and motor mechanism. Rails are installed down the length of the pool, which houses the ropes and pulleys.
They are constructed from ultra tough specially coated canvas and chemical resistant aluminum. When closed they practically zip-seal the pool. Rain, dirt and contaminants are contained on top of cover, and an included pump keeps the cover dry. Auto covers help to eliminate evaporation and heat loss, chemical degradation and shields the pool liner from the sun. They are also an excellent safety item. Since they began keeping pool accident statistics, there has never been a drowning in a pool with an auto cover closed. A family of 10 can walk out onto a closed cover. 
Outdoor Endeavors can repair or replace your auto cover. We work on Aquamatic, Cover Pools, Coverstar, and others.