Pool automation
Outdoor Endeavors can supply and install or repair pool automation control systems on any size pool. Technology today allows you to control your pool heater, lights, water-features, etc. from your mobile phone
Keep Your Pool Water Perfectly Balanced With Hands-free, Automated Ease
Keep the pH and chlorine levels of your pool in constant balance. The IntelliChem® Water Chemistry Controller does it automatically by monitoring your pool's pH and sanitizer levels and delivering just the right amount of chemicals—all without you having to handle any harsh chemicals.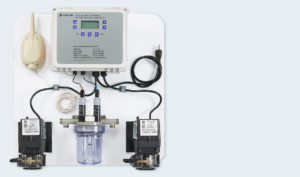 Auto Setup/Configuration wizard makes start-up quick and easy
Programmable chemical feed cycle and mix times for precise water balance
Assures safe water conditions by preventing excess chemical addition
Built-in Langelier Saturation Index calculator lets you know if your water is in balance
Minimizes chemical costs by adding chemicals with precision
Flow sensor ensures chemicals won't feed without system flow
Password-protected access prevents tampering or accidental program change
Seamlessly interfaces with IntelliTouch®, EasyTouch®, SunTouch® and ScreenLogic® Automation Systems, so it's simple to use
Advanced Automation Systems for Pools and Spas
IntelliTouch automation offers superior control systems from simplest to the most ambitious pool and spa designs, including water features and spectacular lighting effects. IntelliTouch systems offer innovative technology and a wide range of wireless and wired control panels that are easy to program with simple menus.
Easy Operation
An IntelliTouch control system takes the work out of scheduling and operating pool and spa heating, filtration and cleaning cycles. It also gives you one-touch control over additional features. Plus, an IntelliTouch system makes sure all your equipment operates at peak efficiency for minimum energy usage and cost.
Cost-Saving Control
Pinpoint control over equipment operating schedules saves money. Plus, you can take advantage of off-peak electrical rates, when available. And, by only running equipment and accessories as much as needed to keep your pool and/or spa in top condition, you prolong the life of your equipment. IntelliTouch also lets you control money saving variable speed pumps and solar heating systems.
Flexible Control Options
IntelliTouch systems offer a number of individual and multiple wired and wireless control devices for the ultimate in freedom and flexibility. Plus, you can use a MobileTouch® Wireless Controller or add an optional screen logic interface to access your pool remotely using many popular mobile digital devices.
Protect Your Investment
IntelliTouch systems sense conditions that could hamper operation and alert you to these situations or take automatic corrective action. It will also tell you when service is needed.
Customize Control With Personality Kits
You select one of IntelliTouch's Personality Kits based on whether you want to control a separate pool or spa, a pool/spa combination with shared equipment or a pool/spa combination with separate equipment. Your Personality Kit determines the type and number of equipment and accessories you will control.
A Basic IntelliTouch System Involves Just Three Elements.
First is the Power Center which is installed at your pool equipment and contains all the electrical circuitry.
Second is one of the "Personality Kits" you select based on whether you want to control a separate pool or spa, a pool/spa combination with shared equipment or a pool/spa combination with separate equipment.
Third is your System Controller. Select from an indoor wall-mounted unit, MobileTouch® Wireless Controller or our ScreenLogic Interface for your mobile digital device, and now with the Apple Watch® wrist wearable device and Amazon Echo™.
Why install pool automation ?
 

Peace of mind – no need to worry about the chlorine or ph of your water  anymore.

 No more high chlorine readings.

 Save money on chemicals – only use what you need.

 Bather comfort – no more burning eyes !